A glimpse from the past
Now, in the earlies of 2018, at the age of 43 I look back to my journey and think how crazy this has been from living in a Caravan just water front shaping a couple of boards only when there was no waves, to a full time single dad and a surfboard business owner..
I was just a kid that grow up in a country side that couldn't fit into the surrounding environment the same way the fish can't live out of the ocean…..and then back in the late 80's looking into a magazine – SURFING, a window opens to me and the journey begins!
Back then the surf had everything I dream on: beautiful lifestyle on the beach, healthy, athletics, nice chicks, parties, fun lots of fun, and the best of all the shear of something unique among really good friends.
A few years later while running a surf club my buddy push me to shape a board cause I was very handy and I shaped my first board: a lovely eggy shape 6′8" single fin 3″ thick red pigment resin and glass on wood fin that later it become a thruster 6′1".
As long the life progress, it was time to go to university, but the surfing stroke was getting stronger and start to question my gold till I decided to quit study, that it just wasn't for me… life now was all about be happy with simple things and not achieve more gold than you need. It was all about surfing and enjoying every day with your mates, "surf all day party all night". A few years later and I was on a plane to the unthinkable INDO. OHH it was just like the movies. It was on the first year that we have VISA to enter in Indonesia and as soon they saw our passports, straight to a room full of policemen asking a lot of questions while the connection flight was waiting for us. We arrive in BALI at 22:00 with nothing booked, knowing nothing or anyone……. Typically of a bunch of "barneys" as they call in Hawaii but we manage two taxi to take us to some place close to padan to sleep.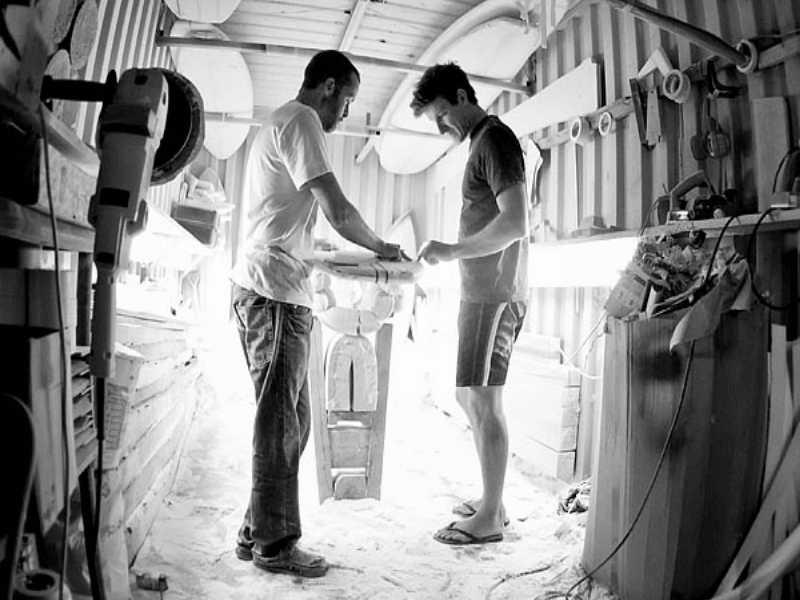 Dan with Oliver Parker sharing ideas on a new design. That board was finish in 3 days just in time to Oliver ride it at the Duck Tape Invitational that took place at the 2011 Salinas Longboard Festival
Time went by and my daugther born, things got a bit more seriously, it wasn't about me anymore, it was time to grow…
Setup a new factory on an Alentejo farm, by the time it was my fourth factory that I set up so we known well the process; smashing, built walls, racks, stands, put the lights and after a week or two the smell of resin was already in the air. It's was the best place to work in an old shed, among the country view, the sheeps, eucalyptus trees.
The surf reward me with great friends all over the globe and everytime I was able I was on plane to surfing and shaping wherever I was invited to and I feel blessed to spent those amazing experiences in places like Australia, France, Spain, Japan, California, Indo to name a few.